Posts Categorized:

Tips of the week
Employment – ATO & unpaid super
The ATO is getting serious about unpaid employee SG super.
Legislation passed last week means employers can be forced to attend educational courses and even be jailed. The ATO will also have the power to issue what are called Director Penalty Notices (DPNS).  DPNs make unpaid SG super a personal liability of a director.
The government is greatly concerned about the amount of unpaid SG super.  It has now given  the ATO the weaponry to address non and under compliance. And from July with the expansion of Single Touch Payroll to all employers, the ATO will know which employers to track down.
Speak to us if you need help with your payroll.
Who will get your super?  Unfortunately, that is a question that many fail to address.
Having a will does not resolve this issue. A will dictates what happens to your personal assets.  As super is held in trust, your will cannot dictate where your super will go.
In order to set out to whom you would like your super to go, you need to make what is called a death benefit nomination. There are three kinds of death benefit nominations.  Each type has its merits and disadvantages.  The best one for you depends on your position and what you would like to happen.
What is best for you is often complex, particularly when there are self managed super funds and trusts (where the issue of on-going control is important).  Furthermore the tax considerations can be a major factor in determining the best way to leave what assets to what people.  This is all best discussed with a financial planner and skilled estate planning lawyer.  Please ask us for a referral.
Cash flow – get paid quicker
Cash flow.  If you want to get paid faster make it easier for your customers.
Provide your customers with a link on an invoice to pay via a payment gateway.
There are many of them such as Paypal, Square and Stripe.  Ask us which is the best solution one for you.
Will these solutions cost you money – yes the will.  But that cost will be covered by giving you the use of sales money earlier and avoid lost time from chasing payment. And don't start me on bad debts – that will be a future blog.
WorkCover requires that the If you are injured at work poster in each workplace.
You can download the poster at https://tinyurl.com/ychzvxdw
Cash flow – getting paid quicker
If you want to get paid quicker by your customers make it easy for them. One way to do so is to provide credit card facilities.  Yes, you may be charged merchant fees but that is usually cheaper than the costs incurred in carrying your debtors.
Call us if you would like help with this.
What GST to charge on food and drinks?
We often get asked by our food and hospitality clients what GST to charge on food and drinks.
Sounds easy but its frequently not.
Thankfully the ATO have created a search tool which you can find at:-
ATO GTS food and drink search tool
We help a number of clients within food and hospitality and would welcome the opportunity to uncover the ways in which we can help you.  We can also show you our real time reporting food and hospitality dashboard (which is full on financial and non-financial KPI's).
Exempt fringes benefits – mobiles & other electronic devices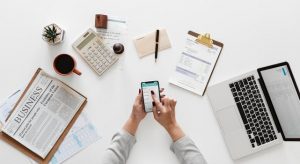 A small business can provide an employee with a portable electronic device every year and do so free of Fringe Benefits Tax.  They qualify as exempt fringes benefits.
That could be a mobile, lap-top or tablet.
The limit is one per year but it must be used for work purposes.
It probably doesn't mean as much to the owner of a small business as they are going to get a deduction under the $20,000 asset write-off concession (but which is due to expire come 30th June 2019).  But if you are an employee, it is a cost effective way of buying such items.
Want to know a few more tips – then call us.
Or better yet, meet with us as our initial meeting with business clients is free of cost or obligation.
Cash flow – state actual due date on invoice
Instead of stating terms such as 14 days on an invoice, we suggest stating the actual due date – such as Monday Nov 5.
We have found that other clients that have moved away from number of days to the actual due date have experienced earlier receipts from customers.
How to improve your cash flow
Xero's latest Business Insights reports that as of August, only 53.5% of businesses were cash flow positive.
That means that almost half of Australian businesses have more money going out the door than in. That is a lot of stress, sleepless nights and extra interest to fund.
Together with our years of experience, our businesses analysis dashboards can reveal where you're at and what will be the impact of making changes to the business. More to the point, we can show you on a rolling basis what your cash flow will be like in the months ahead.
Sleep easier by giving us a call to discuss your situation and opportunities.
ASIC is considering mandating a minimum balance for a self managed super fund (SMSF) to be opened.
Certainly there is good reason for this given reports as to how many SMSFs have unviable balances.
What is most important though is that one receives financial planning advice as to the appropriateness of opening a SMSF.