Posts Categorized:

Employment matters

Single Touch Payroll will apply to all employers from 1st July 2019.  Whilst extensions have been offered we recommend not relying on them in the majority of cases as it will create more work later.

There are a number of things to do and matters that as an employer you need to have in order before July.  Keep an eye out for notification of our upcoming webinar.
In that webinar we will set out the when, what, why and how of Single Touch Payroll.
We look forward to seeing you then.
Contractor or employee? You better get it right as the implications for doing so can be financial crippling.  And then there is the time and mental frustration of dealing with such disputes.
The critical thing is to get the classification right.
You then have to get the right documentation in place.
If they are an employee then you need to do a few things including determine the right award, give them a letter of offer and issue the National 10 Employment Standards.
All too many business owners fail to document a contractor relationship. Agreements are looked through by investigators to avoid shams and find the true relationship. Sadly though, some business owners lose the fight as they have don't have a contractor's agreement to prove their position – leaving the investigators to pretty much accept whatever the payee claims.
Does it cost to establish a contractor's agreement? Yes (but it's insignificant considering what it can save you)
Should you get one off the web? No (how many times do do it yourself lawyers use say a USA agreement or be clueless about the differing considerations used by the ATO, State Revenue Office and WorkCover).
Will the process reduce the possibility of any claim as both parties are fully aware of the relationship? Absolutely.
We would welcome the opportunity to discuss your situation.
Upcoming March quarter deadlines
For those of you who are employers, Friday 26th April is the end date for satisfying your SG super obligation for the March quarter.  Late payments will attract interest and penalties.  As such, this obligation is an employer's most important commitment so best not to leave it until the last minute; particularly as payments through some super clearing houses take 5 days or more to clear.
For those who lodge a paper (non-electronic) quarterly BAS or IAS, your March quarter activity statement is due to be lodged by Monday 29th April.
Personal services entities
If you have a personal services entity (you will know if this relates to you as we will have discussed this with you many times over the years), your entity will be required to pay at least 80% of its income to you as salary/wage and remit the tax thereon within this BAS.
Lodgement tip
Please note that lodgement of an activity statement (even if it is nil statement) and payment are two separate requirements. Late lodgement attracts a minimum non-deductible fine of $210 for every 28 days that a form is lodged late whereas as late payment results in an interest levy. More importantly, BAS's and SG super which is not reported and remains unpaid after 3 months becomes a personal debt of directors (please refer to the September 2012 edition of Tips and Traps for further details on the Directors Penalty Notices system) – and the ATO are actively issuing DPN notices.  That said, the ATO are agreeable to entering into payment arrangements.
STP reminder
And a quick reminder about Single Touch Payroll (STP). STP will be mandatory for all employers from July 2019.  You will shortly receive an introductory letter which will be followed by a series or reminders and steps to be implemented before 30th June.
Single Touch Payroll exemptions
Single Touch Payroll has now been legislated to apply to all employers from July 2019. So from 1st July, 2019, all employers must notify the Tax Office of every employees gross pay, tax and super at the time of payment.
Some exemptions and deferrals have been granted.
However, you shouldn't need them.  The main accounting software products offer Single Touch Payroll solutions.  Furthermore, there is much preparatory work for which you will need to change and or improve your processes.  It is not something bets left to deal with later.
Keep an eye out for future educational and preparatory steps.
Single Touch Payroll has now been legislated for all employers.  From July 2019, even the smallest of employers will have to report wage payments (inc super) to the ATO at the time of payment.
Whilst there will be some extensions, the time to start planning and preparing is now.  We can help you with this.
National Employment Standards
It is a compulsory requirement to have issued all employees with the Fair Work Information Statement
That Statement includes the National Employment Standards.
You can access that document at:-
https://www.fairwork.gov.au/employee-entitlements/national-employment-standards
And please remember to:-
Keep evidential records that you have given the statement to each employee, and
Give one to yourself!
Family & domestic violence leave
Legislation passed last week which makes unpaid family and domestic violence leave part of the National Employment Standards.
The National Employment Standards are issued by Fair Work Australia. The set out the minimum entitlements to be provided by all employers.
There are 10 such standards with unpaid family and domestic violence leave now being grouped with personal./carer's leave and compassionate leave.
If you would like to know more, of to
https://www.fairwork.gov.au/employee-entitlements/national-employment-standards
If you like to work with an accountant who will keep you abreast of such changes then speak to us.
We can also help you setting up your payroll to be compliant with Single Touch Payroll from July 2019.
Long service leave calculator
Not sure how much long service leave an employee is entitled to? That's a common question as the rules are quite complex, particularly when an employee changes their hours of work over the entitlement period.  Thankfully, the government department Business Victoria has a long service leave calculator which you can use.
You can go to http://www.business.vic.gov.au/calculatelongserviceleave and work through a series of questions so have your employment records to hand.
You also need to mindful that the governing legislation was replaced on 1st November 2018.  At that time the Long Service Leave Act 2018 came into effect.  This Act has a number of significant changes that all employers need to be aware of.  For more detail, please refer to our November 2018 edition of Tips & Traps (that being our monthly client newsletter).  Please don't hesitate to contact us if you would like a copy forwarded to you.
We welcome your contacting us should you require any guidance or assistance in respect of this or any other employment matter.
WorkCover requires that the If you are injured at work poster in each workplace.
You can download the poster at https://tinyurl.com/ychzvxdw
Exempt fringes benefits – mobiles & other electronic devices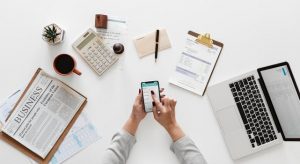 A small business can provide an employee with a portable electronic device every year and do so free of Fringe Benefits Tax.  They qualify as exempt fringes benefits.
That could be a mobile, lap-top or tablet.
The limit is one per year but it must be used for work purposes.
It probably doesn't mean as much to the owner of a small business as they are going to get a deduction under the $20,000 asset write-off concession (but which is due to expire come 30th June 2019).  But if you are an employee, it is a cost effective way of buying such items.
Want to know a few more tips – then call us.
Or better yet, meet with us as our initial meeting with business clients is free of cost or obligation.