Posts Categorized:

SMSF
ATO focusing in on investment strategies
The ATO is focusing in on investment strategies. 
Last September they wrote to, and scared the life out of, 17,700 self managed super fund (SMSF) trustees. 
Last week they released their guidelines.  We will explain their approach and demands as we study these guidelines.
We will also be in discussion with our SMSF auditor.
We do not believe any major shift will be applied retrospectively. 
SMSF investment strategies
Last month, the ATO wrote to 17,700 self managed super funds (SMSFs) trustees and threatened fines of up to $4,200.  The letters were sent to trustees where their SMSF had more than 90% of its assets in one asset class. 
It has now come to light that the vast majority of those letters went to those funds where property was the main asset and there was a limited recourse borrowing arrangement (permissible borrowing with super).
The point remains though there is nothing wrong with borrowing nor buying a property within a SMSF.  Both are permissible (as long as all relevant requirements are satisfied).
This includes documenting your decisions to do so within an Investment Strategy.
The only thing that appears to have changed is that the ATO has now re-defined a 23 year old requirement and are now expecting trustees to document the decision why you have decided to do so.
Accountants can't advise on where you should invest your super (they can only provide a template for you to fill in and complete).  If you need assistance with the process and/or want to know the long term ramifications of your strategy (and options) then you should speak to a financial planner.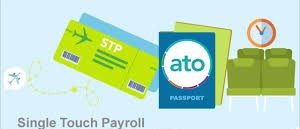 Single Touch Payroll (STP) starts next week!
From Monday 1st July all businesses will be required to report to the ATO each employee's gross pay, tax and super no later than the day of payment.
Whilst there are extensions available we generally recommend not using them as it only creates more work later – and therefore cost.
If however you need to rely on an extension, then you must have applied for one by week's end.
Either way, you have to do so something.
We have been taking our clients through the transition journey principally by way of a series of weekly preparatory emails.
If your accountant hasn't helped you then it is time to change accountants!  Contact us below and we can discuss how we can help you.
Super contribution warning
A quick super contribution warning.
In order to claim a tax deduction for a personal or employer super contribution, it must be paid by year end.
This year is a bit of a trap with June 30 falling on a Sunday.
Another trap is that I just read that the ATO's own employer super clearing house requires payment to be made by the close of business on Monday 24th June.  Pay later than that and the contribution will go into the next financial year.  That's a real problem if you have retired and are aged over 65 as you will thereby breach the work test rule in the first week of July 2019.
Some clearing houses and super funds close off earlier than the 24th.  Make sure you now what you cut-off dates are.
Single Touch Payroll will apply to all employers from 1st July 2019.  Whilst extensions have been offered we recommend not relying on them in the majority of cases as it will create more work later.
There are a number of things to do and matters that as an employer you need to have in order before July.  Keep an eye out for notification of our upcoming webinar.
In that webinar we will set out the when, what, why and how of Single Touch Payroll.
We look forward to seeing you then.
A Budget warning!  A Federal Budget is only a series of announcements. No announcement has effect until it is legislated.  For that to happen, a bill must be passed by The House of Representatives before being passed by the Senate.  From there it is effectively a formality for abill to receive Royal Assent.
That all said, the increased instant asset write-off of $30,000 has passed the Senate.
With an election pending, other announcements may never see the light of the day.  Many announcements morph into quite different legislation.
Keep an eye on our posts to find out what is eventually becomes law and how you will benefit or be affected.
LRBA's to go?
Labour says so according to the Shadow Treasurer Chris Bowen.
Missing from the statement is how this and all the other proposed changes  to super are going to further limit one's ability to provide for one's own retirement.
It flies in the face off all initiatives made between 1983 and 2006 – by Labour and the Coalition alike.
Employment – ATO & unpaid super
The ATO is getting serious about unpaid employee SG super.
Legislation passed last week means employers can be forced to attend educational courses and even be jailed. The ATO will also have the power to issue what are called Director Penalty Notices (DPNS).  DPNs make unpaid SG super a personal liability of a director.
The government is greatly concerned about the amount of unpaid SG super.  It has now given  the ATO the weaponry to address non and under compliance. And from July with the expansion of Single Touch Payroll to all employers, the ATO will know which employers to track down.
Speak to us if you need help with your payroll.
Who will get your super?  Unfortunately, that is a question that many fail to address.
Having a will does not resolve this issue. A will dictates what happens to your personal assets.  As super is held in trust, your will cannot dictate where your super will go.
In order to set out to whom you would like your super to go, you need to make what is called a death benefit nomination. There are three kinds of death benefit nominations.  Each type has its merits and disadvantages.  The best one for you depends on your position and what you would like to happen.
What is best for you is often complex, particularly when there are self managed super funds and trusts (where the issue of on-going control is important).  Furthermore the tax considerations can be a major factor in determining the best way to leave what assets to what people.  This is all best discussed with a financial planner and skilled estate planning lawyer.  Please ask us for a referral.
Friday 26th October is the end date for satisfying Super Guarantee (SG) super obligations for the September 2018 quarter.
Super guarantee is payable on most forms of remuneration including:-
Commissions.
Bonuses (but see below).
Directors' fees and all other forms of remuneration to directors.
Allowances (except where fully expended).
Contractors paid mainly for their labour.
But super guarantee is not payable on the following items of remuneration:-
Overtime.
Reimbursements.
Unused annual leave on termination.
Remuneration of less than $450 in a month.
Bonuses that are only in respect of overtime.
Bonuses that are ex-gratia but have nothing to do with hours worked (harder to satisfy than what you might think).
In respect of employees younger than 18.
Employees carrying our duties of a private or domestic nature for less than 30 hours in a week (such as nannies).
On quarterly remuneration greater than $51,620.
Non-residents performing work for an Australian business outside Australia.
SGC super should never be paid late as late payments attract substantial interest and penalties.  Furthermore, and SG (and BAS) liabilities that remain unreported and unpaid after 3 months automatically become personal debts of directors.
The SGC rate remains at 9.50%.
Please ensure that you make your payment with sufficient time through your Super Stream gateway.  A SG commitment is only satisfied when the money is received by the fund; not when paid to the gateway.  Whilst some gateways pay into the respective super funds the next working days (such as the ATO's free gateway), other gateways take up to 5 working days.
We welcome any question you might have.